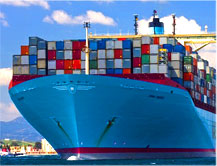 WELCOME TO

DOLPHIN

Dolphin Logistics is a one stop solution for all your logistics requirements. Based in Doha, Qatar, Dolphin Logistics is a force to reckon with for all your logistics requirements in Freight, Warehousing & Distribution, Transportation, Customs Clearance & Delivery, Industrial Projects, Relocations and Heavy Equipment.
Our Services
FREIGHT

We offer clients the best services possible, our air cargo specialists work closely with all airlines operating in the Middle East. As a team, we are dedicated to speed...

Warehousing & Distribution

Dolphin has a substantial warehousing facility in Doha -Qatar situated at Industrial area. We are offering complete Warehousing and distribution solution...

Customs clearance & Delivery

Dolphin provides expert customs clearance services at airport & seaport. Our brokers and professional staff provide customers with complete...

Industrial projects

Dolphin has the capability and expertise to coordinate the entire shipside to site movements of all heavy lifts and general cargo for Major Industrial...

TRANSPORTATION

Fully familiar with the requirement of a project, we are more than willing to undertake these tasks, providing effective solutions for all your cargo needs....

Packing & Relocation

Dolphin provides Relocation services which includes various Household Shifting and Transportation services like packing, unpacking, loading, unloading...

Heavy Equipment Rental

Dolphin offers rentals of heavy equipment and material handling such as, Forklift, Telehandler, Cranes,Trailer,Boom truck and other equipment...
Copyright © 2016, www.dolphinlogisticsqatar.com. All rights reserved.